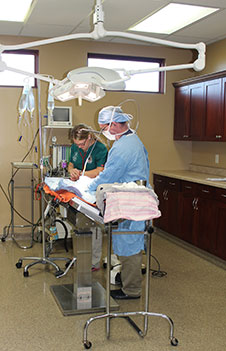 Our in-house surgical procedures include routine spay and neutering, soft-tissue surgeries, and orthopedic surgeries. Occasionally, we refer our patients to specialists (board certified surgeons) to perform complex operations.
We offer the following complete medical, diagnostic and surgical services:
Laser & Soft Tissue Surgery
Minimally invasive procedures including: Laparoscopic Ovariectomy/Ovariohysterectomy, Incisional Gastropexy, Biopsy, Cystoscopic Calculi & Polyp Removal, Rhinoscopy, Video-otoscopy, and Nasopharyngeal Polyp Removal.
Orthopedic procedures such as Tibial Tuberosity Advancement (TTA), Hemilaminectomy for Intervertebral Disk Disease, Anterior Cruciate Repair, Patellar Luxation, and Fracture Repair.
Dentistry procedures including Prophylaxsis (cleaning), Extractions, Feline Stomatitis treatment, Root Canals, Interceptive Orthodontics, and Digital Radiography.
We provide Cardiac, Abdominal, and Pregnancy Ultrasounds.
Our facility features a complete diagnostic laboratory, which means quick blood and urine results in minutes, not days.