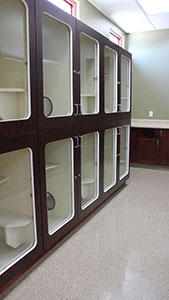 We have modern cat condominiums with plenty of natural light and individualized ventilation to minimize the risk of respiratory disease. To minimize stress, the condominiums are completely separated from all dog sounds. Each cat has a hiding area for security and plenty of vertical resting places for comfort. Litter boxes are cleaned 2 times daily.
To keep all our patients as healthy as possible, we require pets that are boarding with us to have a current fecal examination, rabies, and distemper vaccinations, along with other species-specific vaccinations such as kennel cough and influenza. We also require that most vaccinations be given at least two weeks before boarding. Please call us for more information. Any parasites found on the pet on check-in will be treated at owner expense.Check-out time is noon with late checkout available for a fee.
All About Cats Add-On Service

An add-on service that includes daily brushing, catnip and playtime which enhances your cat's boarding experience. We are glad to feed your pet the excellent IVET pet foods line or what you normally provide. Prescription diets are readily available for pets with medical dietary needs.
A report card is provided at the completion of your pet's stay so you know how things went. We can send you a daily picture with our texting capabilities to let you know that everything is going great! We professionally ensure your pet receives any medications it requires. You can be confident your pet's health is monitored daily while you are gone by the doctors and technicians at Ancare Veterinary Hospital.
If you wish extra reassurance- consider the "Peace of Mind" Pet Health Plan- for a low fee during boarding, you can make sure that if anything occurs while you are gone, its health needs will be met at no cost to you. Certain conditions do not apply. Ask about this important program. Call 815-223-1000 for a reservation today. Suites and condos fill up fast!