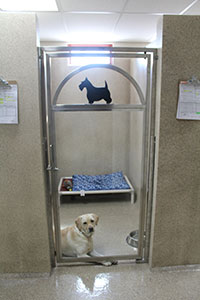 Ease your concerns about leaving your pet behind while you're away: Let our qualified staff take care of him or her. We will provide your dog or cat with a safe, comfortable, "home away from home" atmosphere. We are happy to accommodate any special care or needs your pet might have. Just let us know when you make the reservation.
Our state of the art boarding facility in LaSalle, IL was designed with pet comfort, stress reduction and fun in mind. We want your pet to have a vacation when you are on vacation. With that in mind, we have designed programs that mimic a destination resort.
Our suites come in various sizes:
Presidential Suite – our largest and roomiest suite.
King Suites – 5 suites are available and recommended for a dog larger than 50 lbs.
Queen Suites – 6 suites available.
Standard Room – These rooms are standard kennels with an all glass door for a view.
(Rollaway beds are available if you wish two pets to stay together – provided they get along.)
All suites have exclusive Kuranda beds to maximize your pet's comfort. These are excellent for older patients with arthritis and virtually indestructible. A window for sunlight and music complete their room. Dogs are walked in a large covered outdoor enclosure with "K9 Grass" to use for their necessary business. This ensures they can relieve themselves without getting wet or using "unfamiliar" surfaces. Grass is available rain or shine, summer or winter!
To keep all our patients as healthy as possible, we require pets that are boarding with us to have a current fecal examination, rabies, and distemper vaccinations, along with other species-specific vaccinations such as kennel cough and influenza. We also require that most vaccinations be given at least two weeks before boarding. Please call us for more information. Any parasites found on the pet on check-in will be treated at owner expense.
We provide amenities such as clean bedding and food and water bowls, but feel free to bring your own if you'd prefer. Toys and other personal items that are washable are welcome. We are glad to feed your pet the excellent IVET pet foods line or what you normally provide. Prescription diets are readily available for pets with medical dietary needs. We professionally ensure your pet receives any medications it requires. You can be confident your pet's health is monitored daily while you are gone by the doctors and technicians at Ancare Veterinary Hospital.
At the end of your pet's stay, we will provide you with a report card to let you know how things went. In addition, we can send you a daily picture through our texting capabilities. If you need extra reassurance, please consider the "Peace of Mind" Pet Health Plan. For a low fee during boarding, you can make sure that if anything occurs while you are gone, its health needs will be met at no cost to you. Certain conditions do not apply. Ask about this important program.
Activity Plans
We have various activity plans that enhance your pet's boarding experience:
1. Basic Standard Plan – 3 walks daily, post boarding bath.
2. Sport Package – 3 walks daily, use of underwater treadmill or dog jogger daily, 1 supervised play period, post boarding bath.
3. Premium Pampered Pet Plan (4P) – 4 walks daily, Underwater Treadmill or dog jogger, supervised Play Period, daily brushing, Turn-in treat before bed and post boarding bath.
Check out this video of one of our boarders blowing off some steam using the dog jogger and another using the underwater treadmill!